Amazin' Acres
Tennessee Crossroads visited a couple who want to share their farm with children of all ages. Join Nashville Public Television's Tennessee Crossroads to find out more about Amazin' Acres in Sparta, TN.
---
More Information
The McCulley family of Sparta loves their farm. Jim is the fourth generation to tend 215 acres. He and his wife Karen were dairy farmers and tobacco growers for a long time, but over the years have had to try other things, and they've found their niche: hosting fall activities for kids of all ages on their "Amazin' Acres."
Open Friday-Sunday every weekend from September 22nd - Nov. 3rd. See website for details.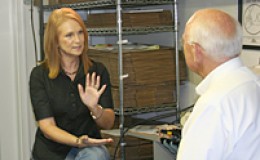 Tressa Bush has been a part of the Crossroads family since 2007. Born and raised in Smith County, Tressa continues to live there today but finds that with each new story she learns something new about Tennessee.  A former Miss Nashville, Tressa also participated in the Miss Tennessee USA (a preliminary to the Miss USA/Miss Universe competition).