Natchez Trace Parkway
Here's a weekend trip idea that's so close, we often forget it's there. The Natchez Trace Parkway is a national treasure that runs right through Tennessee, and it won't cost you much. Join Nashville Public Television's Tennessee Crossroads to find out more about Natchez Trace Parkway
---
More Information
Here's a weekend trip idea that's so close, we often forget it's there. The Natchez Trace Parkway is a national treasure that runs right through Tennessee. As Ken Wilshire discovered, It won't cost you much: a little fuel for the car and a little time to slow down and enjoy the scenery.
The Parkway runs from Natchez Milepost 0 to near Nashville Milepost 444. Find a map of TN section of Parkway at www.nps.gov/natr/planyourvisit/upload/map4.pdf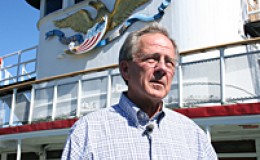 Ken Wilshire joined the Tennessee Crossroads in 2008 with a desire to tell stories about people who have found their passions in life and who would otherwise go unrecognized for their contributions to their community.  Ken began his career at WREG-TV in Memphis, writing, producing and editing news stories, features and documentaries. After leaving Channel 3 he joined Fed Ex in their communications department as a writer/producer and was promoted to the department manager. Ken spent almost 25 years in operations management at FedEx and other Fortune 500 companies.