Doodle Soup Days
Tennessee Crossroads' Al Voecks travels to Bradford, TN, the town famous for its "Doodle Soup", to find out exactly what makes this soup so special. Join Nashville Public Television's Tennessee Crossroads to find out more about Doodle Soup Days.
---
More Information
A festival honoring Doodle Soup- I don't know what it is either, but we're going to find out.
This event is the 4th weekend in September.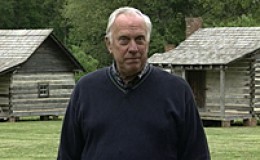 Like Joe Elmore, Al Voecks has been a part of Tennessee Crossroadssince the show's beginnings in 1987. A 40-year veteran in broadcasting, Al Voecks came to Nashville in 1963 and worked as a television news anchor, news director and sports and weather presenter for the local NBC affiliate. He has also been associated with WSM Radio and was most recently a news commentator on WSIX FM in Nashville. Voecks' numerous awards include being named Broadcaster of the Year by the Associated Press in Tennessee.