Tellico Grains Bakery
Ken Wilshire finds a spot in Tellico Plains where locals and visitors alike keep traditions alive and appetites satisfied.
---
More Information
Tellico Plains is a quiet, peaceful community nestled along the Cherokee National Forest and in the shadows of the Smokey Mountains. The townspeople here have a long tradition of community and family spirit. Ken Wilshire recently paid a visit there and found a gathering spot for locals and visitors that keeps the tradition alive and their appetites satisfied.
Info: Open Tues - Sat 8AM-4PM. For the months of January & February, the bakery will be open on Saturdays ONLY.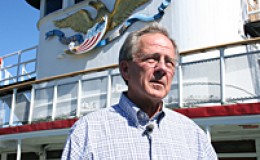 Ken Wilshire joined the Tennessee Crossroads in 2008 with a desire to tell stories about people who have found their passions in life and who would otherwise go unrecognized for their contributions to their community.  Ken began his career at WREG-TV in Memphis, writing, producing and editing news stories, features and documentaries. After leaving Channel 3 he joined Fed Ex in their communications department as a writer/producer and was promoted to the department manager. Ken spent almost 25 years in operations management at FedEx and other Fortune 500 companies.