Broadway Pizza – Memphis
Ken Wilshire visits Broadway Pizza, a family-run business located in Memphis's Broad Avenue Arts District since 1977.
---
More Information
It's always a pleasant surprise to find historic places being brought back to life in communities across the state. And, it's usually the result of some dedicated folks who are committed to the cause'.Well, Ken Wilshire found a non-traditional way of urban re-development that started years ago with lots of family and, of all things, comfort food.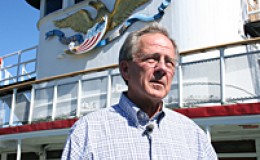 Ken Wilshire joined the Tennessee Crossroads in 2008 with a desire to tell stories about people who have found their passions in life and who would otherwise go unrecognized for their contributions to their community.  Ken began his career at WREG-TV in Memphis, writing, producing and editing news stories, features and documentaries. After leaving Channel 3 he joined Fed Ex in their communications department as a writer/producer and was promoted to the department manager. Ken spent almost 25 years in operations management at FedEx and other Fortune 500 companies.