Olive Pit Restaurant
Ken Wilshire takes us to Paris where fried fish is King. But that didn't stop a couple from opening an Italian restaurant.
---
More Information
Opening a restaurant is hard work but if you're going to open an Italian restaurant, why would you do it in a city named Paris''?.well, Ken Wilshire found a family there who has not only given the city a taste of Italy but who are also pitted against a middle Tn comfort food tradition....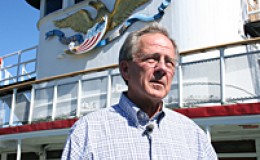 Ken Wilshire joined the Tennessee Crossroads in 2008 with a desire to tell stories about people who have found their passions in life and who would otherwise go unrecognized for their contributions to their community.  Ken began his career at WREG-TV in Memphis, writing, producing and editing news stories, features and documentaries. After leaving Channel 3 he joined Fed Ex in their communications department as a writer/producer and was promoted to the department manager. Ken spent almost 25 years in operations management at FedEx and other Fortune 500 companies.