Shelby Forest General Store
Shelby Forest General Store has been around since the 30's. Tennessee Crossroads heads North of Memphis, TN to catch up with the current family that keeps the Shelby Forest General Store's slogan alive. "The Past is our Present to you." Watch this and more episode segments of Nashville Public Television's Tennessee Crossroads.
---
More Information
If you're going fishing, or camping or on a weekend getaway, Murphy's Law says you'll forget something you really need. Well, this is when the old General Store is the place to go. Ken Wilshire paid a visit to one of the oldest ones in the state just outside Meeman Shelby Forest north of Memphis....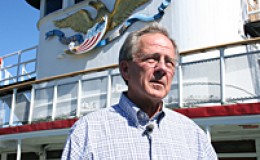 Ken Wilshire joined the Tennessee Crossroads in 2008 with a desire to tell stories about people who have found their passions in life and who would otherwise go unrecognized for their contributions to their community.  Ken began his career at WREG-TV in Memphis, writing, producing and editing news stories, features and documentaries. After leaving Channel 3 he joined Fed Ex in their communications department as a writer/producer and was promoted to the department manager. Ken spent almost 25 years in operations management at FedEx and other Fortune 500 companies.