Marlo's Down Under
Tennessee Crossroads visits a unique restaurant in Covington, TN that's down under this Western Tennessee's Town Square. Marlo's Down Under is permanently closed, but you can watch this and more episode segments of Nashville Public Television's Tennessee Crossroads.
---
More Information
Marlo's Down Under almost sounds like a place to visit in Australia. The truth is... Marlo's is a restaurant, but it's about as far away from Australia as one can get. It's right here in Tennessee...West Tennessee, that is. And, as Ken Wilshire discovered it's a world apart when it comes to wonderful foods and pampered customers...down under a really neat town square in Covington.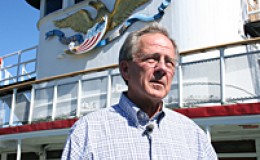 Ken Wilshire joined the Tennessee Crossroads in 2008 with a desire to tell stories about people who have found their passions in life and who would otherwise go unrecognized for their contributions to their community.  Ken began his career at WREG-TV in Memphis, writing, producing and editing news stories, features and documentaries. After leaving Channel 3 he joined Fed Ex in their communications department as a writer/producer and was promoted to the department manager. Ken spent almost 25 years in operations management at FedEx and other Fortune 500 companies.