Marcy Jo's Mealhouse and Bakery
Ken Wilshire visits an old mercantile store that's brought new life back to Pottsville.
---
More Information
There was an old store down in Maury County that used to bring people together from all around, but years ago, that store closed/ Thanks to a couple of folks pursuing their dreams, the place has been refurbished and has once again become a very popular gathering place.
Hours: MarcyJo's is open Tuesday - Saturday from 7am to 2pm. MarcyJo's transforms into a music venue for local artists every third Saturday evening of the month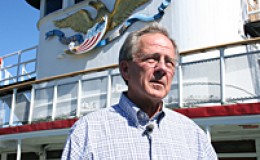 Ken Wilshire joined the Tennessee Crossroads in 2008 with a desire to tell stories about people who have found their passions in life and who would otherwise go unrecognized for their contributions to their community.  Ken began his career at WREG-TV in Memphis, writing, producing and editing news stories, features and documentaries. After leaving Channel 3 he joined Fed Ex in their communications department as a writer/producer and was promoted to the department manager. Ken spent almost 25 years in operations management at FedEx and other Fortune 500 companies.