Boys of East High WWII
Tressa Bush explores the stories of five dozen young men from East Nashville who died in World War II, and the man who has set out to make sure that their stories won't be forgotten anytime soon.
---
More Information
It won't be long until all the WWII veterans are gone, as most are in their mid-80's. Some of them have their stories documented, others have chosen to forget, but what about the stories of the ones who died or are still missing? Who documented their military career? Tressa Bush found a man who has done just that for five dozen young men from the east side of Nashville.
Exhibit is no longer up at Metro Archives. Call to find out latest exhibits.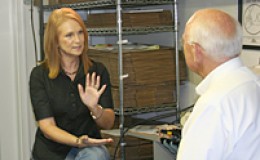 Tressa Bush has been a part of the Crossroads family since 2007. Born and raised in Smith County, Tressa continues to live there today but finds that with each new story she learns something new about Tennessee.  A former Miss Nashville, Tressa also participated in the Miss Tennessee USA (a preliminary to the Miss USA/Miss Universe competition).