Susan Thornton – Metal Jewelry Artist
Tennessee Crossroads travels to Watertown, TN to visit a woman who is making jewelry using a technique that can be traced back to the ancient Egyptians. Join Nashville Public Television's Tennessee Crossroads to find out more about Metal Jewelry Artist – Susan Thornton.
---
More Information
Have you ever wondered how suits of armor were made? Or the jewelry that ancient Egyptians wore? It was a time consuming process that is still practiced today, as Tressa Bush found out when she visited metal jewelry artist Susan Thornton.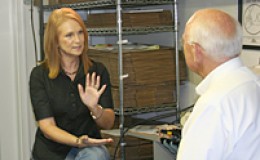 Tressa Bush has been a part of the Crossroads family since 2007. Born and raised in Smith County, Tressa continues to live there today but finds that with each new story she learns something new about Tennessee.  A former Miss Nashville, Tressa also participated in the Miss Tennessee USA (a preliminary to the Miss USA/Miss Universe competition).