Gourd Lady at Pappy's Picket Fence
Tennessee Crossroads' Tressa Bush meets a woman in Gainesboro, TN who makes everything from jewelry to pocketbooks to night lights out of gourds. Join Nashville Public Television's Tennessee Crossroads to find out more about Gourd Lady at Pappy's Picket Fence.
---
More Information
Did you know that the gourd is actually a fruit. Of course, you can't eat them. They're not good for much more than a water dipper and bird houses...unless that is, you have the imagination of someone you're about to meet with Tressa Bush, the one and only gourd artist in Gainesboro.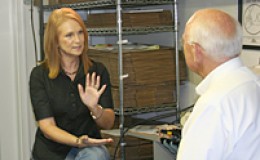 Tressa Bush has been a part of the Crossroads family since 2007. Born and raised in Smith County, Tressa continues to live there today but finds that with each new story she learns something new about Tennessee.  A former Miss Nashville, Tressa also participated in the Miss Tennessee USA (a preliminary to the Miss USA/Miss Universe competition).