Sharron Eckert – Pine Needle Basket Maker
Tennessee Crossroads meets a woman in Pleasant Hill who makes baskets and other home decor from 12-inch pine needles. Join Nashville Public Television's Tennessee Crossroads to find out more about Sharron Eckert – Pine Needle Basket Maker in Pleasant Hill, TN.
---
More Information
When was the last time you picked up a pine needle? What did you think about it? Did you look at it and think it could be something beautiful, and functional? Probably not, but Sharon Eckert does! Tressa Bush takes us to Cumberland County to see how these baskets are made.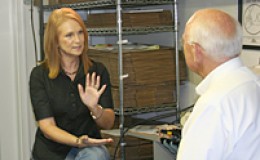 Tressa Bush has been a part of the Crossroads family since 2007. Born and raised in Smith County, Tressa continues to live there today but finds that with each new story she learns something new about Tennessee.  A former Miss Nashville, Tressa also participated in the Miss Tennessee USA (a preliminary to the Miss USA/Miss Universe competition).