Model Trains with Dr. Jack Fisher
Dr. Jack Fisher loves trains of all types. He shows us around his impressive O-Line railroad layout at home, then to the train layout he designed and maintains at Monroe Carell Jr. Children's Hospital at Vanderbilt. Join Nashville Public Television's Tennessee Crossroads to find out more.
---
More Information
There's nothing like a simple model train to bring smiles to people's faces. But what you are about to see is no simple model train. Susan Watson has the story of a Nashville plastic surgeon who has a huge passion for trains. This story begins in his basement and takes us to a city park, and finally to the children's hospital at Vanderbilt.
Dr. Fisher has collaborated with Adventure Science Center for 30 years for their annual holiday exhibit of the area's finest model railroads. Nashville Steam Preservation Society can be found at www.nashvillesteam.org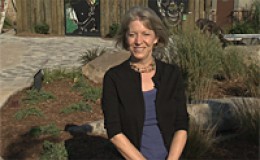 Susan Watson has been involved with Tennessee Crossroads, both behind and in front of the camera, since 1988. A Middle Tennessee native, Watson studied Spanish in high school and became interested in Mexican culture. She occasionally traveled to Mexico to teach English to middle-school children.