Christmasville
Ken Wilshire travels to a community near McKenzie to learn the story of Christmasville, one of the earliest towns in West Tennessee.
---
More Information
There are quite a few TN Communities that once had a thriving heyday that faded away without a trace of history of how it used to be. One such community is called Christmasville, believe it or not, near McKenzie in West TN. Ken Wilshire pays a visit and discovers, while the town never made it, there's something special about it --especially this time of year.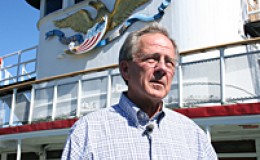 Ken Wilshire joined the Tennessee Crossroads in 2008 with a desire to tell stories about people who have found their passions in life and who would otherwise go unrecognized for their contributions to their community.  Ken began his career at WREG-TV in Memphis, writing, producing and editing news stories, features and documentaries. After leaving Channel 3 he joined Fed Ex in their communications department as a writer/producer and was promoted to the department manager. Ken spent almost 25 years in operations management at FedEx and other Fortune 500 companies.