Birdsong Harp Center
Ken Wilshire meets a couple who bring the harp to life on the banks of the Tennessee River.
---
More Information
Historians say the harp was probably the first musical instrument ever made thousands and thousands of years ago'.And, it produces a unique sound that we usually find in symphonic and more classical music. Well, Ken Wilshire met a couple near the banks of the Tennessee River who have brought its sounds to life among all the more traditional instruments and types of music you might find deep in the country.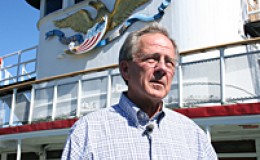 Ken Wilshire joined the Tennessee Crossroads in 2008 with a desire to tell stories about people who have found their passions in life and who would otherwise go unrecognized for their contributions to their community.  Ken began his career at WREG-TV in Memphis, writing, producing and editing news stories, features and documentaries. After leaving Channel 3 he joined Fed Ex in their communications department as a writer/producer and was promoted to the department manager. Ken spent almost 25 years in operations management at FedEx and other Fortune 500 companies.