Abraham Lincoln Library and Museum
Tennessee Crossroads takes us along as she explores the Abraham Lincoln Library and Museum in Harrogate, TN that you might not have know existed, at Lincoln Memorial University that you might not have heard of either. Watch this and more episode segments of Nashville Public Television's Tennessee Crossroads.
---
More Information
Even though Abraham Lincoln was born just up the road in Kentucky, the story is he never made it to Tennessee. So it may come as a surprise to you that one of the largest collections of the popular president's history resides up in East Tennessee. Harrogate, to be exact. Where Gretchen Bates actually got to meet honest Abe... Sort of.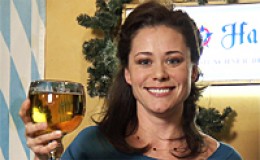 Gretchen Bates joined Tennessee Crossroads in 2007 but had her first appearance on the show in 1991 when her community, The Farm, was featured on the show. Though born and raised in Lewis County, Gretchen left Tennessee to move to New York City and pursue a career in theatre. Highlights from her time in New York City include two summers at the Chautauqua Theatre, working with the Circe du Soleil, and seeing every show on Broadway. After six years on the stage in New York City, Gretchen returned home to Tennessee.