Treehouse
Tennessee Crossroads makes a visit to Horace Burgess, a man who loves treehouses so much that he might just have built the world's largest. Watch this and more episode segments of Nashville Public Television's Tennessee Crossroads.
---
More Information
As kids, we all played in tree houses. Most of them were just a few feet off the ground and pretty small. Next, Tressa Bush meets a man in Crossville who also likes tree houses. So much so that he built what may be the world's largest.
The Treehouse is closed to the Public. This video is here for your viewing pleasure.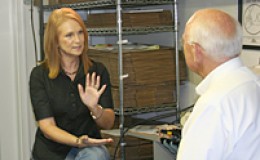 Tressa Bush has been a part of the Crossroads family since 2007. Born and raised in Smith County, Tressa continues to live there today but finds that with each new story she learns something new about Tennessee.  A former Miss Nashville, Tressa also participated in the Miss Tennessee USA (a preliminary to the Miss USA/Miss Universe competition).