Little Dutch Restaurant
Tennessee Crossroads travels to Morristown, TN to profile a local restaurant and the incredible story behind the couple that run it. Join Nashville Public Television's Tennessee Crossroads to find out more about The Little Dutch Restaurant.
---
More Information
We've featured a lot of restaurants over the years. We tell you about their great food and great atmosphere, but this restaurant story is a little... yes, the food is great, but there's a great sotry too. Tressa Bush tells us about a couple who traveled half way around the world for a better job and a better life, and it turned out to be a life of feeding others.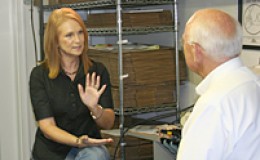 Tressa Bush has been a part of the Crossroads family since 2007. Born and raised in Smith County, Tressa continues to live there today but finds that with each new story she learns something new about Tennessee.  A former Miss Nashville, Tressa also participated in the Miss Tennessee USA (a preliminary to the Miss USA/Miss Universe competition).