Cumberland County Playhouse
Tressa Bush discovers why audiences in Crossville can't seem to get enough of one particular Cumberland County Playhouse actor.
---
More Information
The most visited attraction in Cumberland County is the Cumberland County Playhouse--the non-profit organization has been entertaining folks since the mid 60's--one of the keys to their success is having actors like Jason Ross. He's one of a handful of so called "resident" actors who live in Crossville and perform regularly at the theater. Tressa Bush introduces us to the Chattanooga native who still, after all these years, can't believe he makes a living acting in Tennessee.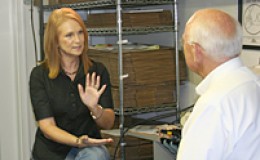 Tressa Bush has been a part of the Crossroads family since 2007. Born and raised in Smith County, Tressa continues to live there today but finds that with each new story she learns something new about Tennessee.  A former Miss Nashville, Tressa also participated in the Miss Tennessee USA (a preliminary to the Miss USA/Miss Universe competition).