Bob Jones- Illustrator
Tressa Bush visits a Hermitage artist whose art work has made its way from children's lunchboxes all the way to the Smithsonian.
---
More Information
Have you ever looked at packages, containers, books or cards and wondered who designed the art work? More often than not, that person is thetype of artist called an illustrator, Tressa Buush discovered one in Hermitage. And found out that his work emcompasses many things.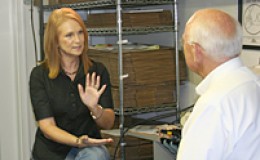 Tressa Bush has been a part of the Crossroads family since 2007. Born and raised in Smith County, Tressa continues to live there today but finds that with each new story she learns something new about Tennessee.  A former Miss Nashville, Tressa also participated in the Miss Tennessee USA (a preliminary to the Miss USA/Miss Universe competition).