Delta Queen Steamboat & Hotel
Ken Wilshire travels to Chattanooga to stay at the last fully operational, overnight passenger steamboat in the country, the Legendary Delta Queen.
---
More Information
She's about as well-known as anyone in America. In fact, she's taken hundreds of thousands of us to see people and places throughout the interior of the United States since the 1920's. But, she's come to rest in Tennessee. The historic Delta Queen sternwheel steamboat is moored in Chattanooga now, and has become a boutique hotel. Ken Wilshire went on board recently to meet this royal lady.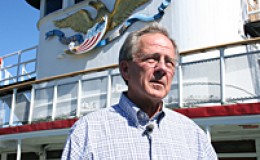 Ken Wilshire joined the Tennessee Crossroads in 2008 with a desire to tell stories about people who have found their passions in life and who would otherwise go unrecognized for their contributions to their community.  Ken began his career at WREG-TV in Memphis, writing, producing and editing news stories, features and documentaries. After leaving Channel 3 he joined Fed Ex in their communications department as a writer/producer and was promoted to the department manager. Ken spent almost 25 years in operations management at FedEx and other Fortune 500 companies.