Photographer Christine Patterson FLASHBACK
In this Flashback from 1993, Susan Watson meets Christine Patterson, a world renown photographer, and Knoxville, TN native. Watch this and more episode segments of Nashville Public Television's Tennessee Crossroads.
---
More Information
Christine Patterson is a world renown photographer known for her innovations that turn snapshots into fine art. Susan Watson first met the Knoxville native before the digital age, when special effects were hand-made. Here's a Flashback from 1993. Christine is featured in many public and private collections.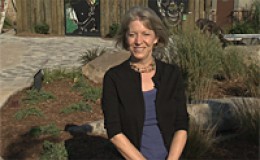 Susan Watson has been involved with Tennessee Crossroads, both behind and in front of the camera, since 1988. A Middle Tennessee native, Watson studied Spanish in high school and became interested in Mexican culture. She occasionally traveled to Mexico to teach English to middle-school children.